Here is the link: http://www.abc.net.au/btn/story/s4464750.htm
Blue =  Facts
Green = Questions
Red =  Understandings
Dairy has been the talk of the week after some farmers exclaim how they're in huge financial trouble. Apparently, milk processors aren't paying them enough money to cover their cost and blame the cheap supermarket milk for making the prices lower. But the processors say the overseas markets are the problem for making the prices super cheap. Let's look deeper into this situation.
Did you know that cows had 4 stomachs? Well, did you also know that farmers use cups to milk cows? Well, not the cups you drink out of. These cups look like this: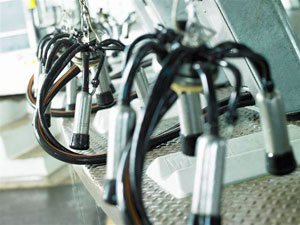 The suction bits (where the rubber and the metal meet) go onto the cow and the milk then goes through the hose into the cooling system, and after that it goes into the vat. Cows are normally milked 2 times in one day!
So back onto the problem. There's around 6000 dairy farms around Australia, but that's only the first step in making milk. Then it goes to the processors who clean and package it (with machines). The processors pay the farmer on how much protein and fat is in their milk.  This is called milk solids.  But the situation is some big companies have announced a drop in how much they're going to pay. Murray Goulburn used to pay farmers $5.60 per kilogram for their milk. Now they'll pay between $4.75 and $5 a kilo. Fonterra is now willing to pay farmers from $5.60 to $5. The companies like Murray Goulburn and Fonterra are saying that people overseas (they send a fair bit of our Aussie dairy products overseas) don't want our dairy products as much as they used to, so now they have to drop their prices.
Which reminds me, most of the milk is actually turned into other dairy things (cheese, butter, milk powder, ice cream and even yogurt)! But when we think of the processors are dropping their prices, everyone normally celebrates. But for farmers, these changes can be devastating for them. Some of them have even said that in some cases, they'll be losing money on each litre of milk they sell.
So what can we do? Well, some people are calling for the help of the federal government, like a 16 year old girl called Chloe. She's started an online campaign asking for the government to look at the milk pricing system and set up rules to protect farmers in this industry. Her father is a farmer, which is how she found out what is going on. So far she had more than 120 000 signatures, but all she wants is to see change in supermarkets and the way people see dairy farmers and the industry itself.
Others also want the government to help, but their going at a different approach. Some people have asked the government if they can put a levy on milk that will go straight to the farmer/s that made it. These people say that the big supermarkets aren't helping the dairy farmers by selling milk at such a cheap price.
But what can we do? Well, farmers are saying that if you check that you grab Aussie dairy milk brands that are not made by the supermarkets, it would be a great help toward them. And they also say that if everyone contributes a little bit, it will make a huge difference to farmer's rights across the country.
An understanding I have is that being a farmer is actually a very stressful job. Imagine waking up in the morning and you know that you could be losing money today (each litre of milk they sell).
2 questions I have are:
How much are processors payed?

What would happen if farmers cleaned and packaged it themselves? Would it impact the problem slightly or a lot?